British Council next LIVE arts talks – 23 June, 5 pm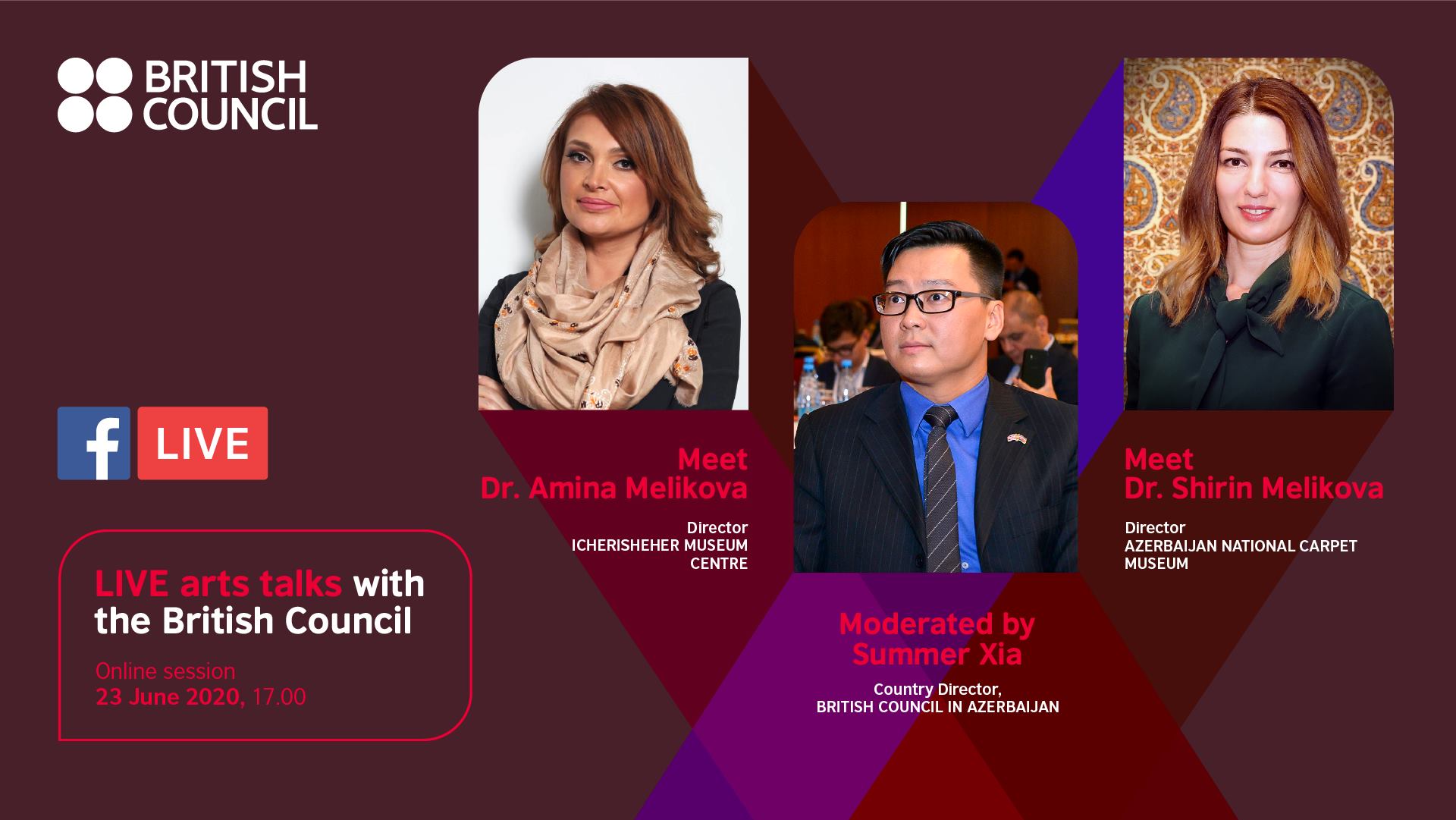 Tuesday, 23 June 2020 - 17:00 to 18:00
Facebook LIVE session (English language)
Meet successful artists to learn everything about arts projects and careers in Azerbaijan!
Our LIVE arts talks will introduce the participants to successful artists, musicians, filmmakers, crafts and cultural heritage practitioners in Azerbaijan, who will share their advice and experience on kickstarting your own arts projects and careers. This is a part of our live arts series, which will explore the transformative power of the UK arts and culture to develop creative expression and enterprise, creating a more connected, sustainable and inclusive society in Azerbaijan.
Our speakers:
DR. SHIRIN MELIKOVA
Associate Professor, Honored Worker of Culture, has been the President of ICOM Azerbaijan National Committee and the Director of the Azerbaijan National Carpet Museum since 2016. At the same time, she is the lecturer at the Azerbaijan State Academy of Fine Arts. Shirin Melikova regularly gives lectures in leading textile museums around the world, at international symposiums, and conferences. She is the author of more than 20 books – local and international scientific publications. As an art expert of the Heydar Aliyev Foundation, since 2010 she is among the organizers of several international exhibitions and festivals held both in Azerbaijan and abroad.
AMINA MELIKOVA
PhD. Art History, Director of "Icherisheher" (Old City) Museum Center. Amina is also the founder of Azerbaijan Kelagayi and Butali national Brands, and has been working in the museum sphere for more than 20 years, being the author of the books "Oil and Art", "Kelagayi Art", "Shirvanshahs' Heritage in the World's Museums", etc.
SUMMER XIA (MODERATOR)
Summer has worked in a variety of roles in the British Council global network including its headquarters in London. He has been Director of Operations in Indonesia and Deputy Director in Thailand. Before taking up his role as Country Director of British Council Azerbaijan in September 2018, he was based in Singapore as the Regional Change Transition Lead for East Asia, implementing global change programmes across 14 markets in the region.
Speakers from the previous session:
NATIG ISMAYIL
Natig is an electronic music entrepreneur and the co-founder of iN Club, CHAIN Agency, and Sektoreight.
ABDUL MUZZI
Abdul is an executive producer at Khazar 103FM radio, and is now a project lead at Kəllə-Kəlləyə and Five Entertainment.
DJ BAZAUR
Zaur produces and manages his original music programmes, such as NEED for MiX, he has also been the official presenter of Selector Radio in Azerbaijan.
Source: www.britishcouncil.az
Follow us on social networks:
Facebook: facebook.com/creative.az
Instagram: https://www.instagram.com/kreativaze/