INTERACT film project will be launched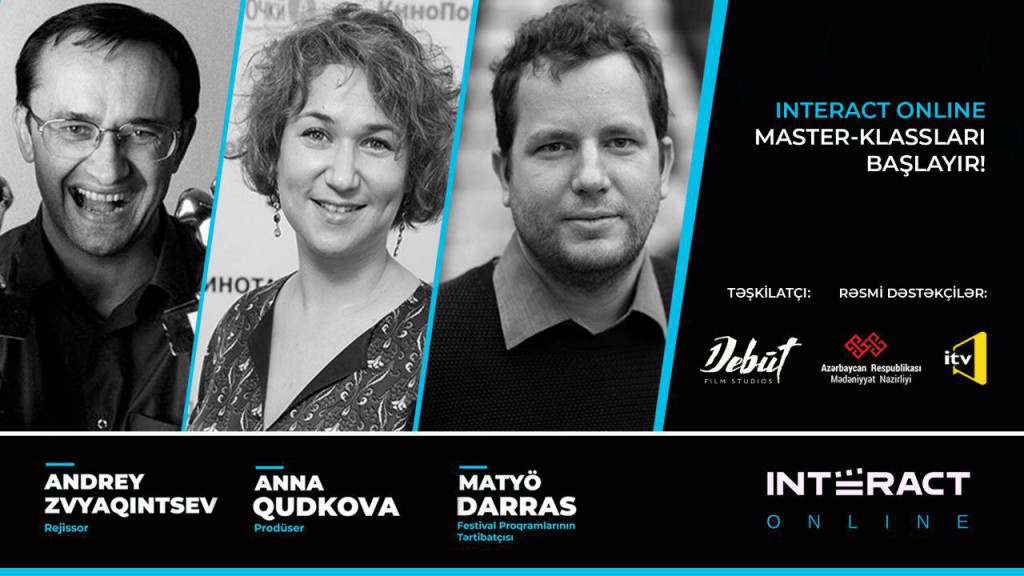 With the support of the Ministry of Culture and the press support of the Public Television (ITV), "Debut" Studio will start implementing a long-term INTERACT project from 16th June.
Founded in 1987 by prominent film director, People's Artist Eldar Guliyev, "Debut" Studio produces short and full-length debut feature films, production of international joint projects, promotes Azerbaijani cinema in the world, as well as implements INTERACT-type educational programs.
The purpose of INTERACT project, which will serve as a training laboratory, is to provide training, production and post-production, distribution and funding opportunities for students studying cinema in Azerbaijan, as well as new filmmakers.
The first phase of the project, called INTERACT ONLINE, which will last twice a week for a month, offers young cinematographers the opportunity to exchange information with well-known international professionals through online master classes. All master classes will be presented in the original language (English or Russian, respectively) and with simultaneous translation in Azerbaijani.
The first lecturers of INTERACT ONLINE are:
- Anna Gudkova - creative producer of the streaming platform TNT "Premier", editor, curator of festival programs, creator of pitching at the festival "Kinotavr". Program director and co-founder of Kultburo Training Center. She is a member of the jury of a number of Russian and international film festivals, a specialist in pitching. Host of the first web project pitching in Russia;
- Andrey Zvyagintsev - a well-known Russian screenwriter and director, author of "Return", "Elena", "Leviathan" and other famous films. Winner of the Golden Lion at the Venice Film Festival (2013), the Best Screenplay Award at the Cannes Film Festival, the Golden Globe Award for Best Foreign Language Film, and the 2015 Academy Award for Best Foreign Language Film. Although he has made only five feature films so far, Andrei Zvyagintsev is one of the most influential directors in Russian and international cinema;
- Matthew Darras - Head of "Pop Up Film Residency" residency, which he founded in 2017. He was also the founder and head of "European Network NISI MASA" European Network of Young Cinematographers (2002-2012), co-founder and artistic director of "TorinoFilmLab" creative laboratory (2008-2018). He has published articles in the film magazine "Positif" (1998-2016), has been the developer of festival programs at festivals such as "Cannes Critics 'Week" (2005-2011) and "San Sebastian Film Festival" (since 2010). He is the co-founder and director of "First Cut Lab".
It should be noted that the form and status of the next stages of INTERACT project, which will consist of workshops and other events, will be updated depending on the state of the COVID-19 pandemic.
Regular participation in INTERACT ONLINE allows you to get accreditation for future phases.
The number of project participants is limited! Therefore, those wishing to join the program are requested to register online at www.debutfilms.az/interact. After accreditation, participants will have access to the ZOOM platform to join the above-mentioned master classes.
Source: http://www.mct.gov.az/
Follow us on social networks:
Facebook: facebook.com/creative.az
Instagram: https://www.instagram.com/kreativaze/