Farid Rzazadeh: "Everyone has a creative side".
1 Dekabr 2019
Uğur hekayələri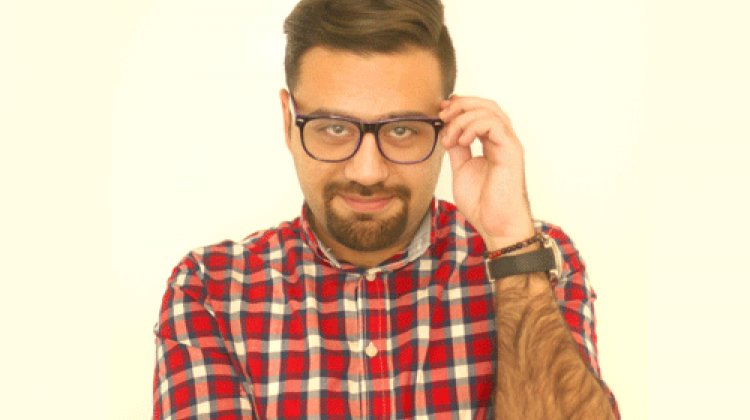 When entering the market, the first thing to consider is the design of the product package. He says this is a feature that comes from his profession. Thanks to his art, he also learned to be patient. Because sometimes a customer can repeat the same concept 10-15 times. If it is a factor that is properly stated by the customer, the designer must make the 16th, even 52nd time adjustments that the customer wants. Our interviewee is Farid Rzazade, Art (Creative) Director of DDB Azerbaijan.
- In most of the companies you worked for a while. Is it because you can't get what you want in the workplace?
- During my student years, I worked as an independent designer. After graduating from the University of Economics, I worked for a short time on this specialty, but I did not get it. Again, I turned to design. This time, there was a monotony in the places I worked, and I didn't feel any progress in my work. Finally, an offer came from DDB Azerbaijan, an international company. There was dynamism here, I had the opportunity to learn and move on, and implement interesting projects.Our field is both theoretical and practical, so that no one can say, "I stopped here, I already know everything." The design area is constantly evolving. New theories, new fashions, new programs are emerging. We must be constantly searching and learning.
- Where do you learn the news?
- It is possible to learn by following designer forums on various websites, portals, Instagram and Facebook. Generally, a designer should always be in search. I quit my job and went home, that's not end of the job. I'm constantly searching through the Internet, looking at fashion, trends and looking at some foreign channels.
- What is your responsibility at DDB?
- Our client conducts a campaign, such as street advertising, commercial video, etc. can be. The customer appeals to us, and we are looking for solutions with the whole team to deliver the product to the consumer. It is clear that the customer wants to sell their own goods. We deliver it to our client in a much easier, more creative way. In recent years, minimization is preferred in the world. However, that does not mean it's the only style in the world, and everyone should use it. There are other styles. Fashion is simply minimalism. Nowadays, people are avoiding a lot of information and confusion, and now they want to see something brief, concrete, and interesting. I think this is the reason why minimalism has become fashionable. Our job is to hand over the design to the client in a style that he likes. I'm also trying to show and control it as Art Director.
- Farid bay, is the selling main purpose of design?
- At the moment, I am not the owner of the company. So now, I am trying to get my work done to the international arena. True, there are a few of my jobs, but they have not been awarded. If I had my own company, I would think twice. I am going to come to the international arena as well as work on sales. Developing both sales-driven, customer-friendly and internationally-award-winning work is certainly the ultimate goal.
- The color combinations are very important in design and do you need special education to learn it?
- Personally, my education was not by design. However, a teacher who graduated from three design universities has been training me for two years and I still need my advice. My teacher "discovered" this ability for the first time because I was well-adjusted to color, and he advised me to continue with that area. I don't think that there is a here is no university or specialty to study design. Knowing colors in the design is very important. For example, there are shades of red that cause aggression. Therefore, these colors should not be used in advertising. Although, these rules are not followed in Azerbaijan. But it is pleasing to our customers that they are welcome when they tell us such little things.
- What kind of ads do Azerbaijani buyers mostly love?
- There is an opinion that customers in Azerbaijan love direct advertising. That is, if I sell a phone, I have to show it. But I think that the Azerbaijani buyer can already accept the illusory and unusual advertising. Simply, most sellers or manufacturers are reluctant to sell their products with such advertising. But in world practice this is not the case, companies use both. They show both the product and select the consciousness of the product to create a conscious awareness of the product. Of course, this also has its own ways.
- How would you explain a conscious advertisement in a simple language?
- For example, you want to advertise your phone. But for the first time, you are posting a slogan on or off the phone to the public. Everybody eagerly asks what it is and wants to know. After a while, the new ad reveals that the slogan was on the other phone model. By doing so, you are attracting the public's interest. It makes very nice effect when initially, there was no information about the product, which caused people to be interested and then the product came to market.
- Farid bay, how important is the design of the product you buy while shopping?
- It is very important. When I go to the market, first of all I pay attention to the design of the product package that I will buy.
- But, there would be poor quality product in beautiful package.
- Agree. It is just a feature that comes from my profession that I look at the first design and then buy the product. If it is good, I buy this product every time. Of course, if I see poor quality, I won't buy it again.
- Every art creates a habit or imprints on a person. What habits did your art create, or what impression it made on your character?
-- When I walk, I give my opinion on every color, usually the old ad, the names of the shops, the typeface. Even to myself, I think that the text is written in font. I think it is a feature of all designers. When it comes to character traits, design requires more patience. Because a customer can sometimes repeat a concept 10-15 times. We must do it the 16th time and the 52nd time. If it is a factor that is properly mentioned by the customer, if we really misunderstood it, and if the client wants to guide us, we will still be correcting the material. From this point of view the design taught me to be patient.
- Design also requires talent as an artist, or can anyone be a designer?
- Everyone has a creative side. In my opinion, creativity in advertising comes from the human perspective. That is, you should look at a product in an unusual way that others cannot see. To do this, a person must have information about that particular product or area. Anyone who can do this can be a creative person. Of course, if you have a passion for the field.
- One of the designers said that the design might be nice, but that doesn't mean it is right. What should be the right design?
- Beauty is a great concept in design. One color, one concept which I like .other 10 may not like. The design should be straightforward. The idea must be conveyed correctly. If the white background for me means making a black dot, I think of it as the most beautiful design. Designer can work on the beauty of design for a month. But if that design, advertising doesn't tell me, it won't work. Everyone's concept of beauty is different. Therefore, the advertiser must first think about ideas and opinions and then visualize them. Of course, there are so many ads on the market that you just have to visualize the product nicely. These ads are not wrong. Because the beauty of the product must always be in the forefront. But while such designs are prevalent in the world, it is not considered a great and competitive job for designers working in creative agencies.
- Our traditional question: What is the secret of success?
- The secret of success is that I work on a regular basis. I also like to learn everything perfectly. After I fully understand one thing, I pass it to another.
Source: kaspi.az/az/her-bir-insanin-yaradici-terefi-var-uur-hekayesi/