Emil Guliyev: How to shoot realistic films in a society that chooses a comedy genre
3 Dekabr 2019
Uğur hekayələri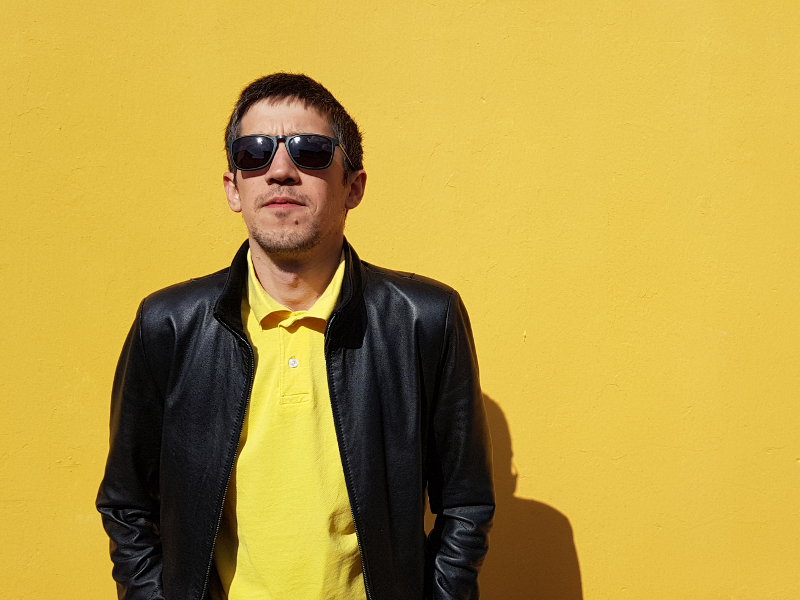 Among the works of this director are two films that have produced an explosive bomb effect by introducing the nudity that has infected many families in Azerbaijan. We are talking about films "Pərdə" and "İkinci Pərdə". Emil Guliyev is about to make a serious film from the ground up to his senses.
King and Checkmate
Movie critics say there has never been a second movie that has been debated in the past twenty years as far as ''Pərdə''. After the presentation of the first movie, they told me: "You have done a great job. You have exposed a lie that has deeply penetrated some families."
The heroes of my films speak as if they were ordinary people, they make jokes and even make salty jokes. And who looks at them, he sees himself, his relative, his neighbor. He believes. After all, all the heroes are taken from real life.
But our national mentality does not allow many people come to this film with their families. I remember one incident when a man and his wife left the hall in the film's twentieth minute, expressing their disrespect to the cashier why they were not warned about the use of censorship in the film.
First of all, let me tell you that my movies are shown with the 18+ mark. Secondly, the Azerbaijani audience is looking at Turkish films with even more offensive phrases, and for some reason this does not come as a surprise to anyone like my movies.
If you make a movie, you have to shoot as it is in life or the audience will not believe it.
Priceless actors
In general, sponsors do not like to invest in serious films. In the case of comedy, money is being given without hesitation. So if I just went to any producer and said, "I want to shoot these actors in this comedy movie. They just make money for that movie, but it's hard to inspire sponsors to invest in serious films."
First of all, you need to find like-minded people. Producer Orkhan Mardan helped me fund the second film. I came to him and said, "There's a great scenario, I need money." He also made money. Orkhan is a very interesting person. He treats cinema as an art, not a science. It was very easy and exciting for me to work with him.
40,000 manats (about 20,000 euros) were spent on the film ''İkinci Pərdə''. It was a bit more than the money spent in the first movie. At that time, we spent around 29,000 manats (about € 14,000).
In fact, it's a penny for a movie. In cinemas the film received a total of 20,000 manats. Most of the money was also spent on tax payments.
In the film "Pərdə" the actors worked almost free. The technical staff, the make-up masters, received very little salary. It turns out that you love creativity and work hard for a serious movie, or you earn money by participating in a commercially-based low-comedy movie. I even worked for free.
In addition, in my films, it is the actor's play that makes the film sensitive. Emotions are in words and dialogues in the film "Pərdə"…
FROM IDEAS TO REALIZATION
We spent 6-7 days on screenplay for the ''İkinci Pərdə''. My friend Parviz Hasanov helped me. Everything revolves in our brain and is transmitted on paper. This is a real story.
We chose the actors for a month. It was very difficult to choose a female lead actress. Gunay Ahmed, who feared public reproach for the role, agreed. Some parts even had to been cut.
In this film, we have discovered Elshan Askerov from Jalilabad who has graduated from acting school. Due to his physical defects (eye injury), he has never been found in the filmmaker. Although he did not play the lead role in the movie, he did get a second role character. When I saw his picture on the internet, I realized that it was his role.
At first, Elshan was embarrassed, but he was participating in trainings that didn't belong to him. As a result, he played in a way that surprised us all. By the way, he stayed in Baku after the shootings and works in the theater. Talented kid, Bravo!
The shooting team was like in the first movie ("Pərdə"), except for the operator. I wanted to attract a representative of the "new" movie school. I was advised by Moscow debutant Dmitry Suvorov. He lived in Baku for a month and a half. His work was successful.
Very rarely do I write down where the actors are in the script and where the events take place. Maybe they seat? I'm writing a trial, but I make the final decision on the shooting pitch. It is impossible to imagine what will be more realistic in advance. For this we train hard, try, improvise and look for something more real. Everything is charged.
The "İkinci Pərdə" rehearsals lasted 2 months, 5 hours a day. We practiced and then filmed until all the scenes were made real.
The main force of the actors was spent on culinary. They really beat each other during the shooting. Psychological pressure was also very strong. Nevertheless, the whole scene was shot twice.
While watching the movie, the audience is wondering if he is the killer, replacing himself with the protagonist. It is important to give the audience a decision on the ending.
After the screening of "Curtain" (the first or the second movie), I have got a lot of messages. One of my acquaintances was meeting with a married woman. After watching this movie, they broke up. So the boy saw himself from the outside and realized how wrong he was.
A Real film or a Comedy
Now our main goal is to reach the love of the audience. The movie "İkinci Pərdə" was watched by 2,400 viewers for 2 months. It is very small.
Local films are not appreciated in Azerbaijan. Contemporary Azerbaijan comedy film "Kiklikotu" attracted 165,000 viewers. This means more than one million manats. Our people love comedy films.
Recently, I also shot a comedy movie called "Bozbash". Thanks to him, I plan to spend my earned money on a "real" movie.
The solution to the problem is the cultural education of the audience. This should be based on local television. I applied to the TV channels for the screening of the movie "Pərdə". Everybody is watching. Everybody likes it. But it is not broadcast. They think this movie is not for public viewing. So my audience is unaware of my films.
We have translated the second film in English and are sending it to the festival abroad. If our audience has not yet developed for such films, let the foreign audience appreciate our work.
How much?
I was hoping to cooperate with "Azerbaijanfilm" company. I asked them for money for the shooting of the Mamed tragicomedy. It was supposed to be a learning and effective film. But no funds were found. The script has been on the shelf ever since. Instead, they charged me to shoot three Mozalan films ("Yeralash" type). I shot and handed these films, and I don't even want to watch them.
Now I'm shooting my fourth full-length movie. It's also comedy, but it's good quality. The operator is very strong - our compatriot living in France.
We even built a triplex house that is not unique in real life. We even built a park and courthouse. I realized that my protagonist only had such an absurd surroundings. Of course, we are talking about decorations. But they look very real.
Now I want to play a family drama in the 90's in Baku. I will work in Kharkov. This city is very similar to Baku of the 90's. This is a very interesting story. This film requires 200,000 AZN. I have an idea to show the film to several producers. The key is, as I said earlier, to find someone who believes in the idea.
5 TIPS TO YOUNG FİLMMAKERS
1. Make a movie. Do not hesitate, do not doubt. It is important not to draw with what. You can also pull the phone first If you have any idea of what you believe, you need to realize it. There is no difference in shortening and longevity. Of course, it is better to start with shortening first. It is important to look at the motives of the process, to raise money and to declare itself. My first work was in short films. They had many mistakes. Every time I looked at my work I tried to figure out my mistakes and correct my mistakes in the next shootings. I kept going. I'm even glad that I don't have a special directorial education.
2. Find a team of like-minded people. You need to find a team with the same mindset, the same energy that understands you, and moves with you.
3. Be individual. Don't try to look like someone. Then you will always be the first.
4. Not to compromise. Sometimes you have to, but then you regret. For example, I was compromised on one scene of "İkinci Pərdə," so far I can't forgive myself. But I had to put pressure on the actor to get what I wanted. I realized that the actors were already tired. I didn't want to use the music in the movie, the producer convinced me. Again, I think the music was already there. I think music should not intersect with real films.
5. Read. Read more. I read the same book many times. Mostly Dostoevsky. My favorite book is Bulgakov's "Master and Margarita".
"Pərdə" movie can be viewed on YouTube at: youtube.com/watch?v=7yQs4O_HlQc
You can also find Emil Guliyev on the "Kinopoisk" website: kinopoisk.ru/name/2779979/